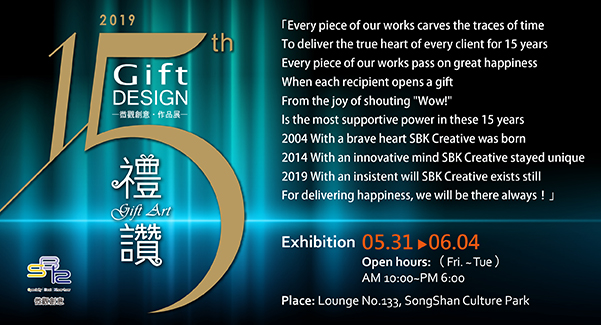 「Every piece of our works carves the traces of time
To deliver the true heart of every client for 15 years
Every piece of our works pass on great happiness
When each recipient opens a gift
From the joy of shouting "Wow!"
Is the most supportive power in these 15 years
2004 With a brave heart SBK Creative was born
2014 With an innovative mind SBK Creative stayed unique
2019 With an insistent will SBK Creative exists still
For delivering happiness, we will be there always!」
Of this exhibition is based on the gifts that SBK Creative has customized for clients over the past 15 years. By reviewing and presenting the series of works, we can see how the concept of "Micro Design, Aesthetics Life" assists corporate clients delivering corporate ideas, events meanings, and extension of the brand's impressions. Also, through the exhibition, we can redefine the meaning and connotation of gifts, and admire that "Design is Everywhere, Service is Meticulous".
Admission:Free
Notice:Please do not eat, play, run and touch the works in the exhibition
Contact Info. No.: 02-27594088#100
Date:5/31~6/4
Time:Fri. to Tue., 10:00-18:00
Opening Tea Party:6/1(Sat.) 14:00
Location:Lounge No.133, SongShan Culture Park
SBK Web: https://sbk.com.tw

Event Web:https://pse.is/G7PSK